ONLSO BOTANICALBEVERAGE is a healthy drink with imported ingredients to maintain the intestinal tract. It contains five star ingredients: citrus fruit powder imported from France; concentrated powder of edible mushrooms imported from Spain; white kidney bean extract imported from the United States; isomalt ketone sugar alcohol and Pu-erh Tea Spray Dried Instant Powder and other ingredients, so that you can enjoy the delicious taste at the same time, there is the intestinal tract a healthy environment.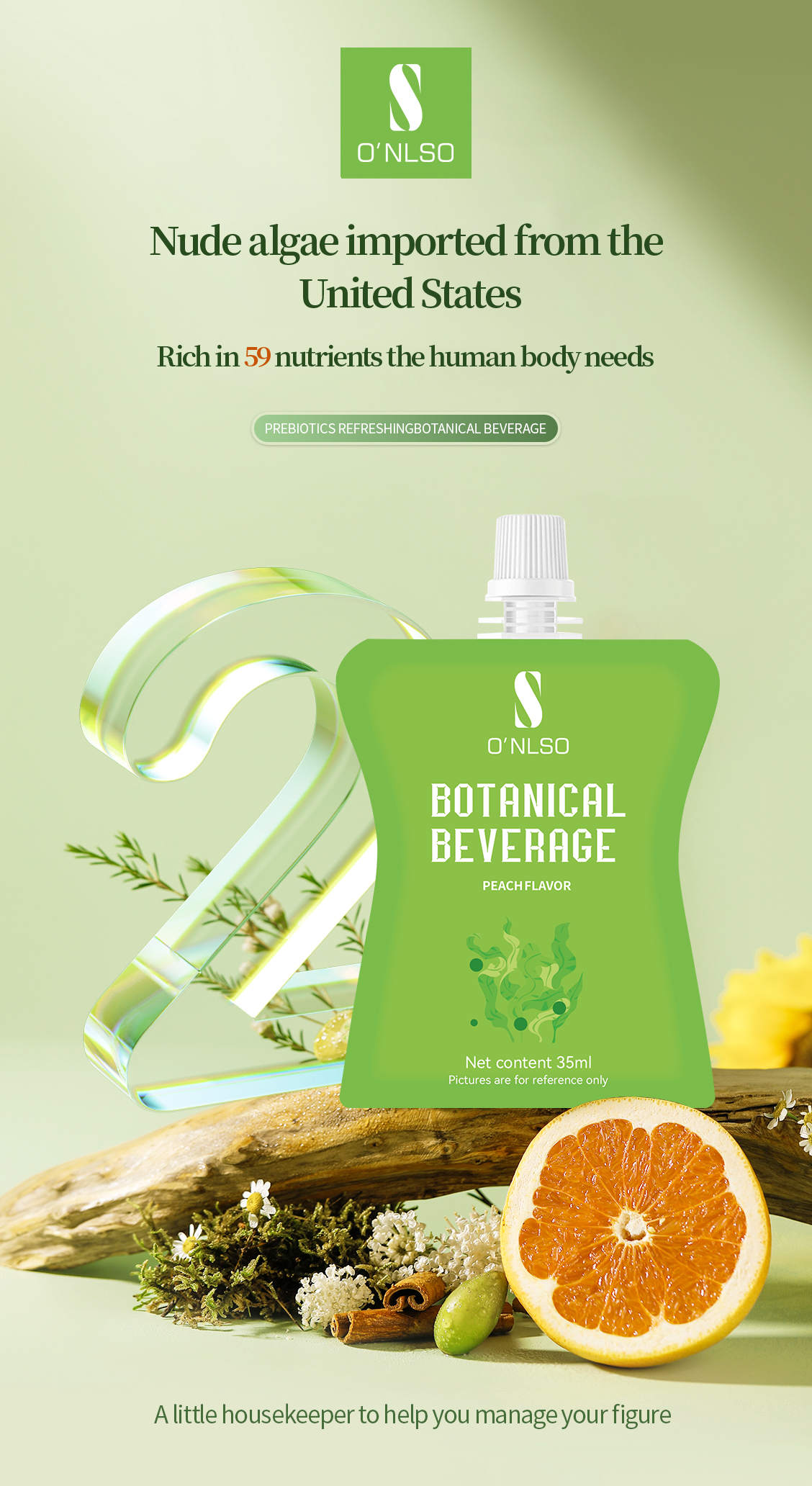 Modern life, more and more people ignore the importance of intestinal health, intestinal health is not only related to the body's various systems, but also closely related to physical and mental health. ONLSO BOTANICALBEVERAGE is to solve this problem. It uses imported raw materials to ensure the quality of the product. It also incorporates prebiotic ingredients to help with intestinal health. ONLSO BOTANICALBEVERAGE's five star ingredients are key to helping consumers reach their body goals.
Citrus fruit powder is rich in vitamin C and minerals to accelerate fat metabolism. Edible Mushroom Concentrate Powder is rich in dietary fibre and protein to reduce appetite and control calorie intake. White kidney bean extract contains amylase, which can reduce the absorption of carbohydrates. In addition, isomaltulose sugar alcohol and Pu-erh Tea Spray Dried Instant Powder can help to control blood sugar and blood lipids, and increase the metabolic rate to accelerate fat burning. Not only that, ONLSO BOTANICALBEVERAGE has a unique taste that allows you to enjoy the delicious taste without feeling burdened.
It is a, low-sugar, low-fat, low-calorie healthy drink, which can replace the traditional high-sugar, high-fat drinks. Moreover, its bottle is very portable, so you can drink it anytime and anywhere, no matter you are on your way to work or resting at home, you can enjoy the benefits it brings. ONLSO BOTANICALBEVERAGE is also a popular product in the market. Because it not only tastes good, but more importantly, its effect is guaranteed. Many consumers have gained a healthier lifestyle through long-term consumption of ONLSO BOTANICALBEVERAGE as well.
Therefore, ONLSO BOTANICALBEVERAGE is a trustworthy and healthy product that can keep you healthy even in your busy life. It is a health drink suitable for the majority of consumers, not only taste good, the effect is also guaranteed attention to intestinal health is the pursuit of a healthy lifestyle, ONLSO BOTANICALBEVERAGE are your intimate body management partner.