As modern people, we pay more and more attention to the healthy quality of life, and a healthy life can not be separated from scientific diet and nutrition. ONLSO BOTANICALBEVERAGE is born for such a healthy life, and is GMP certified for quality assurance. ONLSO BOTANICALBEVERAGE is created by a team of five leading scientists and dozens of expert consultants in the fields of food engineering, nutrition, and weight management who are involved in the research and development of ONLSO BOTANICALBEVERAGE.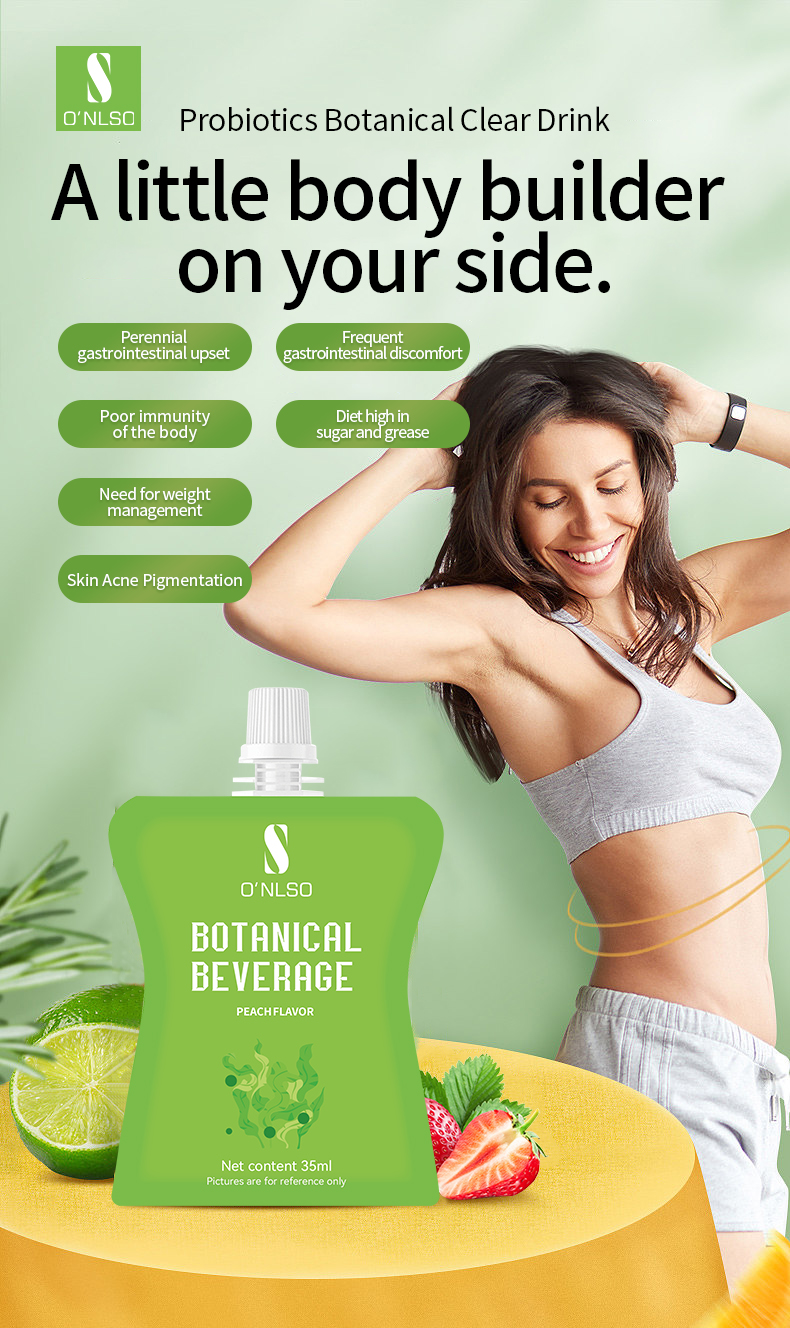 Supported by international laboratories and academic backgrounds, they are committed to creating healthy products that are scientific, rigorous and reassuring. The production process of Epsom Botanicals Clear Drink is carried out in strict accordance with GMP certified standards, using a 100,000 class sterile clean room for production, ensuring aseptic operation of the production process and high quality of the product. ONLSO BOTANICALBEVERAGEE is a health drink with prebiotics as the main ingredient, prebiotics is an ingredient that can enhance the health of the intestinal tract, helping to maintain the balance of the intestinal flora. In addition, ONLSO BOTANICALBEVERAGE is also added with a variety of plant extracts, which are able to work synergistically to help regulate the body's functions. ONLSO BOTANICALBEVERAGE ONLSO BOTANICALBEVERAGE is a refreshing, zero-sugar formula, so even those who want to control their weight and focus on their intestinal health can consume it without worrying about their intestinal health.
All in all, ONLSO BOTANICALBEVERAGE is a perfect healthy drink for modern people, it can also help regulate body functions to maintain body balance and increase intestinal probiotic nutrients, we believe this product can bring more benefits to your healthy life. Whether you are a working student or someone who needs to control their weight and is concerned about their health, you can consume it without any worries.
ONLSO BOTANICALBEVERAGE is easy to carry, no matter you are at work and class, business trip or travelling, just carry it with you! It is not afraid of grease and maintains intestinal health. With prebiotics and a variety of plant extracts as the main ingredients, it helps to maintain intestinal health and regulate body functions, which is perfect for the health needs of modern people. We believe that once you try it, you will love this healthy drink and be surprised by its benefits, let's enjoy a healthy and happy life together!